Cars for Kids Benefit Show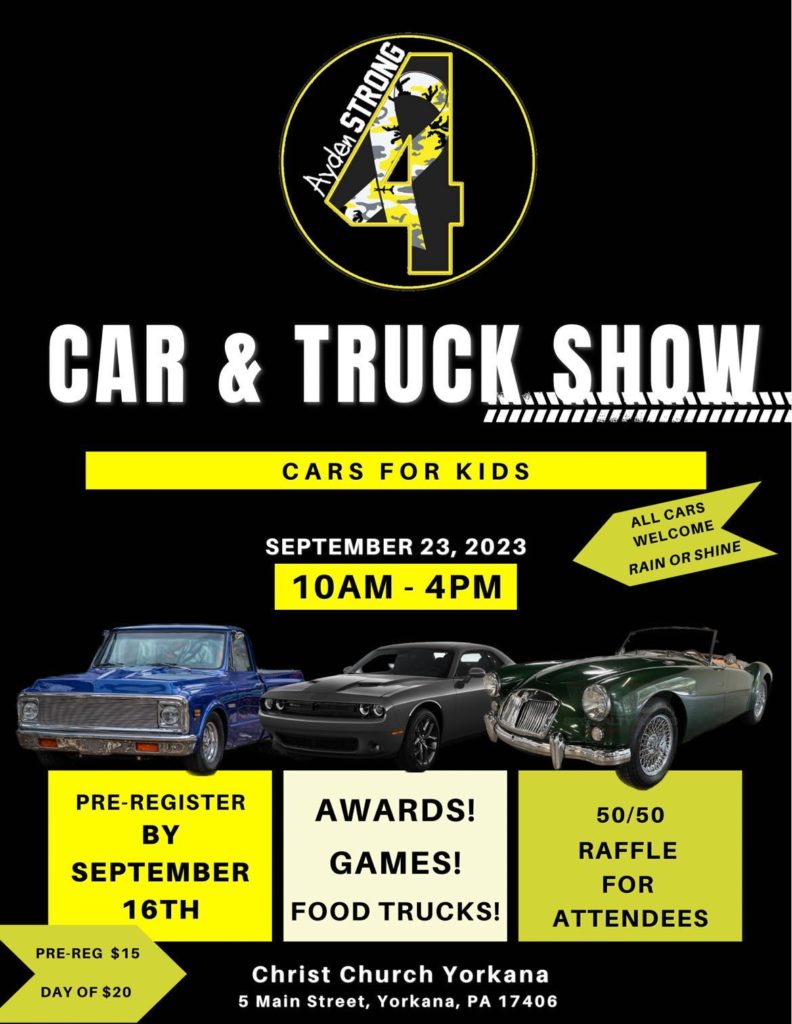 A big thank you goes out to Casie Kubin from BarkCode Consulting & Project Management for making our flyer for this event.
The Cars for Kids benefit car show is open to all cars and trucks and was set up to raise funding for the 4AydenStrong foundation. This show will be free to the public to attend. All those who would like to submit cars into the show will be able to pre-register for 15 dollars or you can register the day of the show for 20 dollars. Trophies will be awarded to registered attendees in several different categories which are listed below. All who pre-register for the show will be enrolled into a separate drawing for the large prizes. There will also be a 50/50 raffle with additional prizes for anyone who attends the event. Tickets will be available at the show for that drawing. We will have food trucks and a DJ. Local businesses will have the opportunity to sponsor some of the trophies and prizes and we will give a shout out to those who help with the event.
If you would rather send a check, please make checks payable to the "4 Ayden Strong Foundation"
and write your year make and model along with any car club information if applicable on a note and send it to the address listed below.
5058 Spring Road
York, PA, 17406
Hosted by: Christ Church Yorkana 
Located at: 5 Main Street, Yorkana, PA 17406
Date: September 23rd 2023
Time: 10 AM to 4 PM
Trophies
Winners of Trophies must be present to receive their trophy or they forfeit the trophy.
In order to get everyone in and parked quickly, there may not be time for reserved parking. to ensure you are able to park together please arrive together.
All vehicles to be judged must be registered by 12:00 noon.
Antique
Street Rod
Muscle Car
Mini Truck
Full Size 2-wheel drive
Full Size 4X4 / SUV
Import
Modern Muscle 2000 +
Best Paint
Best Engine
Best Interior
People's Choice
Best of Show
Work in Progress
Online Pre-Registration Form